GRAND LUXXE LUXURY VACATION CONDOS RESORT
Grand Luxxe Luxury Vacation Condos is a part of the Vidanta family. Please view the videos at the bottom of the Welcome page so you can see our commitment to your health and safety.
Grand Luxxe Luxury Vacation Condos is the pinnacle of luxury and service within our Vidanta resort group. Nestled between the Pacific Ocean and the Sierra Madre Mountains, Vidanta Nuevo Vallarta is a Mexican tropical beach paradise vacation. Vidanta Nuevo Vallarta offers the ultimate Mexican resort vacation. As the biggest of the Vidanta destinations, it has been carefully cultivated to provide a high-end experience full of options: Grand Luxxe luxury vacation condos, 40 plus restaurants and lounges to try, three golf courses including the Norman Signature Course and The Jack Nicklaus Academy of Golf, a shopping plaza, two indulgent spas, beautiful beaches, and countless pools.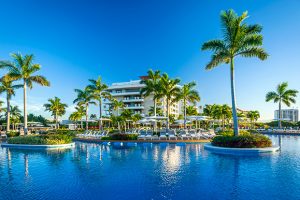 From the moment you arrive, you will sense the difference with personalized attention 24/7 and the exclusivity in private beach and pool areas that are intimate and tranquil. At Vidanta's Grand Luxxe Vacation Mexican resort, we invite you to explore the gardens and landscaping, enjoy the ocean breeze, the unparalleled panoramic view of the Pacific Ocean in a magnificent sunset, and the natural biodiversity of the Bandera's bay. It is the kind of extraordinary Mexican vacation experience you want, and the kind of service you deserve and expect.
We will take care of you
The Grand Luxxe luxury vacation condos provide the ultimate in luxury and service set in an incredible Mexican resort vacation. Make your stay an unforgettable one enjoying the variety of service as offered that distinguishes the Grand Luxxe as a very unique destination. Enjoy your own sanctuary of sophistication. The Grand Luxxe Vidanta Resort was awarded by AAA their 5 Diamond Award! Visit the Welcome page for additional information about the resort.
Everything with you in mind
The condos have kitchens, living area, opulent bedrooms with private baths, decks with furniture and a plunge pool. Robe and slippers too!
An on-site shopping plaza. Spas and gyms with state-of-the-art equipment. Pools, hot tubs, sauna, and much more.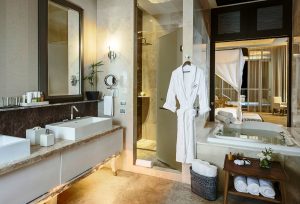 Golf and Tennis
If you love Golf, there are 3 courses, one of which is lighted for night play, a Golf Academy, and a Pro Shop for your needs.
There are tennis courts available and you can even rent a racquet.
Nightly Entertainment
The Santuario is the place for evening daily theme-based shows. Or venture over during the day and enjoy the ambiance with a drink and appetizer.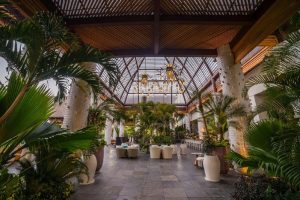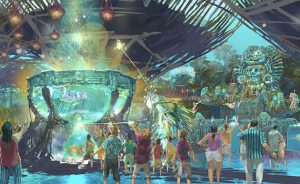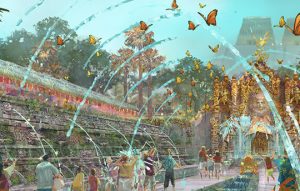 Vacation at its Best!
There's magic and wonder brewing at the Resort. A revolution in entertainment. Vidanta will debut the Parks, a culture-shifting new approach to theme parks. The new concept in family vacations will fuse luxury with imagination creating a fantastical world where adventures leap to life through immersive rides, attractions, and interactive performances.
Reservations will include the opportunity to purchase discounted Park tickets.